---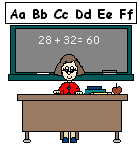 I am a Highly Qualified Teacher that has gone through AMSTI (Alabama Math, Science and Technology Initiative ) and ARI (Alabama Reading Initiative)training.
This is will be my thirteenth year teaching, (wow-time has flown). I started my career-calling at Ladonia Elementary School in Russell County. I taught there five years. Then I transferred to Smiths Station Primary School.
Listed below are the grades I have taught in order:
4th, 1st, 1st, 2nd, 3rd, 1st, 1st, 1st, 1st, 1st, 1st, 1st and currently 1st. I really enjoy teaching and inspiring young children. They make life and work very interesting and fun. Everyday is a new day because they bring so many new and exciting ideas to the classroom.
As you can see first grade is my favorite grade to teach because of the many memorable rewardable achievements I observe throughout the year. They are all truly like sponges and I am honored that I am the one of many who gets to pour into them daily. Thank you :)